2007.5-2018 68RFE Transmission Dodge RAM Cummins
Dodge/RAM 68RFE Transmissions Cummins
TRANSMISSIONS WITH YOUR TRUCK IN MIND
Each transmission build has been well thought out, with every application considered. As a result, transmission builds come in a variety of choices.

Each stage will fit a different application based on your truck's power level and how you use it daily.
The transmission stages were designed for daily driving and light towing, while others are ready to take on those heavy loads and work hard every day. Take a look to see what build fits your truck best. Keep a few things in mind. What kind of power does your truck have now, AND what are your future plans for the truck?
Need help choosing? Have questions? Want to have us install the transmission? Give us a call and talk to an expert. 330-345-3000 We can help!
Stage 2 -WORKHORSE
Daily Driver/Light Towing
This transmission was designed for trucks with up to 450 horsepower. It is the perfect fit for the daily driver that does occasional light towing. (Less than 12,000 lbs) This build is offers many performance benefits with a price tag comparable to a stock rebuild.
Build Cost: $4,950.00
Low Stall Billet Cover Multi-Disk Converter
RedLine Spec Clutches and Steels with Additional Clutches in Overdrive
Redline High Pressure Custom Built Valvebody
RedLine Modified Front Pump
All New Bearings
Gaskets and Seals
New Bonded Pistons
Billet Lower Channel Plate
New Solenoid pack
HD L/R Sprag
New Speed Sensors and Line Pressure Solenoid
Tig Welded Input Planetary
New MOPAR Filters
Factory Oil Pan
Bead Blasted Transmission Case Painted in High Quality Silver Metallic
---
Stage 2.5 -HEAVY-DUTY
Towing/Performance
Our most popular build! The design of Stage 2.5 transmission can handle daily driving and tow with ease. This transmission is suitable for up to 550HP. With this build, you will notice a firmer shift over the Stage 2 transmission.
Build Cost: $6,950.00
Billet Flex Plate
Billet Input Shaft
Three Disk Gorend Low Stall Billet Torque Converter
Sonnax Billet Overdrive Drum (Includes 35% increased clutch capacity) with RedLine spec'd Clutches and Steels
Alto G3 Clutches and Steels (Increase holding capacity in 2nd & 4th clutch packs)
RedLine High Performance UD, Reverse and Low Reverse Clutches and Steels
Redline High Pressure Custom Built Valvebody
RedLine Modified Front Pump
All New Bearings
Gaskets and Seals
Billet Aluminum Channel Plate
Billet 3 Ring Accumulators
New Bonded Pistons
New Electronic Solenoid pack
HD L/R Sprag (Roller style)
New Speed Sensors and Line Pressure Solenoid
Tig Welded Input Planetary
New MOPAR Filters
Factory Oil Pan
Bead Blasted Transmission Case Painted in High Quality Silver Metallic
---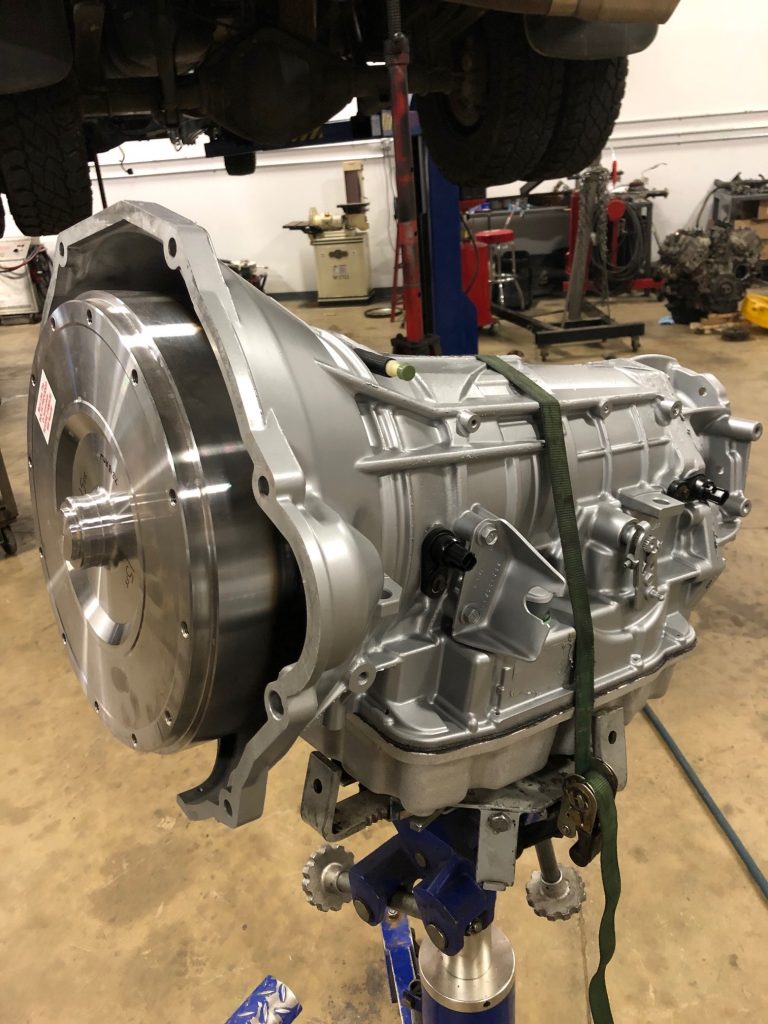 Stage 3 -HEAVY DUTY PLUS
Heavy Towing/Performance
This build has it all. It is rated at up to 750 rear wheel horsepower.
Build Cost: $8,500.00
Billet Flex Plate
Billet Input Shaft
Sonnax HD Overdrive Shaft
Triple Disk Goerend Low Stall Billet Torque Converter
Redline High Pressure Custom Built Valvebody
New SSV Valves
Custom Bonded Separator Plate
Billet Aluminum Channel Plate
Billet 3 Ring Accumulators
Custom Billet High Capacity Overdrive Drum with 50% increase in holding power
Alto G3 Clutches and Steels (Increase holding capacity in 2nd & 4th clutch packs)
RedLine Modified Front Pump which is completely vacuum tested and repaired as necessary. Including a brand new heat treated separator plate
RedLine High Performance UD, Reverse and Low Reverse Clutches and Steels
All New Bearings
Gaskets and Seals
New Bonded Pistons
New White Top Solenoid pack
HD L/R Sprag (Roller style)
New OE Speed Sensors and Line Pressure Solenoid
Tig Welded Input Planetary
New MOPAR Filters
Deep Capacity Aluminum Transmission Pan
Bead Blasted Transmission Case Painted in High Quality Silver Metallic
---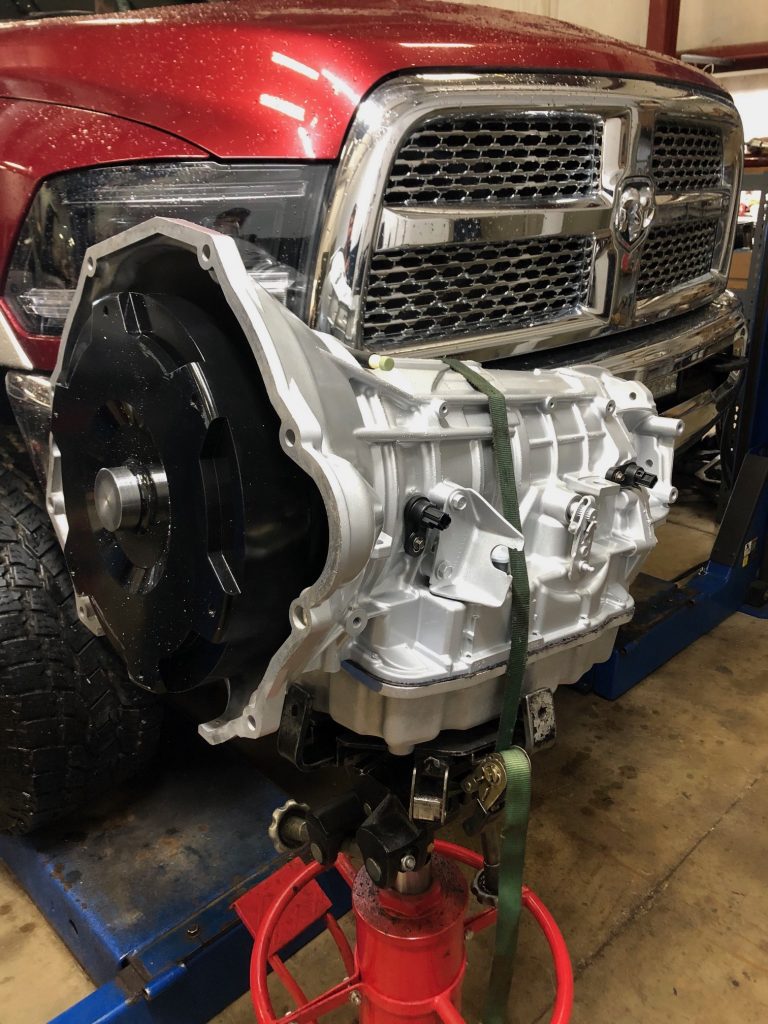 Stage 4 -REDLINE
Extreme
I designed this build for the truck that needs MORE….. It is rated at up to 900 rear wheel horsepower.
Build Cost: $12,000
Billet Flex Plate
Billet Input Shaft
Sonnax HD Overdrive Shaft
Steel 2C/4C Center Support
Custom Billet 900hp Overdrive Drum
Billet Aluminum Front Pump Half
Triple Disk Gorend Low Stall Billet Torque Converter (Extreme Clutch Upgrade)
Alto G3 Clutches and Steels (Increase holding capacity in 2nd & 4th clutch packs)
RedLine High Performance UD, Reverse and Low Reverse Clutches and Steels
Redline High Pressure Custom Built Valvebody
RedLine Modified Front Pump
All New Bearings
Gaskets and Seals
Billet Aluminum Channel Plate
Billet 3 Ring Accumulators
New Bonded Pistons
New Electronic Solenoid pack
HD L/R Sprag (Roller style)
New Speed Sensors and Line Pressure Solenoid
Tig Welded Input Planetary
New MOPAR Filters
Deep Capacity Aluminum Transmission Pan
Bead Blasted Transmission Case Painted in High Quality Silver Metallic